I Am Not an Animal
First Air Date: 2004-05-10
Register Free Account
I Am Not an Animal
I Am Not An Animal is an animated comedy series about the only six talking animals in the world, whose cosseted existence in a vivisection unit is tur ...
You May Like Also
BoJack Horseman
BoJack Horseman
Meet the most beloved sitcom horse of the 90s - 20 years later. BoJack Horseman was the star of the hit TV show "Horsin' Around," but today he's washed up, living in Hollywood, complaining about everything, and wearing colorful sweaters.
Dora the Explorer
Dora the Explorer
Dora the Explorer is an American educational animated TV series created by Chris Gifford, Valerie Walsh, and Eric Weiner. Dora the Explorer became a regular series in 2000. The show is carried on the Nickelodeon cable television network, including the associated Nick Jr. channel.
Aqua Teen Hunger Force
Aqua Teen Hunger Force
Aqua Teen Hunger Force is an American animated television series on Cartoon Network's late night programming block, Adult Swim. The series made its official debut on September 9, 2001 on Adult swim; after the pilot episode was aired as a special sneak peek on Cartoon Network on December 30, 2000. The show is about the surreal adventures of three anthropomorphic fast food items: Master Shake, Frylock and Meatwad, and their human nextdoor neighbor, Carl Brutananadilewski. Aqua Teen Hunger Force is one of the spin-offs of the show Space Ghost Coast to Coast, and as of 2013, the longest running original series on Adult Swim, as well as one of the top 10 longest-running American animated television series of all time. Each episode is written and directed by series creators Dave Willis and Matt Maiellaro, who also provide several voices. As of 2011 each season is given a different alternative title accompanied by a different opening sequence as a running gag by the creators. Aqua Teen Hunger Force: The Movie, a film adaption of the series was released in theaters on April 13, 2007, marking the first time an Adult Swim series has been adapted into a movie.
The Simpsons
The Simpsons
Set in Springfield, the average American town, the show focuses on the antics and everyday adventures of the Simpson family; Homer, Marge, Bart, Lisa and Maggie, as well as a virtual cast of thousands. Since the beginning, the series has been a pop culture icon, attracting hundreds of celebrities to guest star. The show has also made name for itself in its fearless satirical take on politics, media and American life in general.
Fireman Sam
Fireman Sam
Follow the adventures of fireman Sam and his colleagues as they protect the citizens of the Welsh town of Pontypandy. Whenever the alarm sounds, brave Sam and his co-workers can be counted on to jump into a fire engine, hop onto a helicopter, or even launch an inflatable lifeboat to battle blazes, mount rescue missions, or provide medical attention to those in need.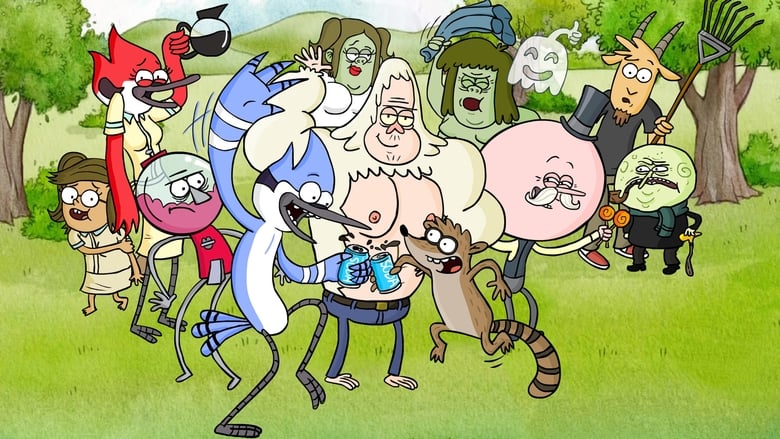 Regular Show
Regular Show
Two bored groundskeepers, Mordecai (a six-foot-tall blue jay) and Rigby (a hyperactive raccoon) are best friends who spend their days trying to entertain themselves by any means necessary, much to the displeasure of their boss. Their everyday pursuits often lead to things spiraling out of control and into the surreal.
Fairy Tail
Fairy Tail
Lucy is a 17-year-old girl, who wants to be a full-fledged mage. One day when visiting Harujion Town, she meets Natsu, a young man who gets sick easily by any type of transportation. But Natsu isn't just any ordinary kid, he's a member of one of the world's most infamous mage guilds: Fairy Tail.
We Bare Bears
We Bare Bears
Three brother bears awkwardly attempt to find their place in civilized society, whether they're looking for food, trying to make human friends, or scheming to become famous on the internet. Grizzly, Panda and Ice Bear stack atop one another when they leave their cave and explore the hipster environs of the San Francisco Bay Area, and it's clear the siblings have a lot to learn about a technologically driven world. By their side on many adventures are best friend Chloe (the only human character in the cast), fame-obsessed panda Nom Nom, and Charlie, aka Bigfoot.