American Dad!
First Air Date: 2005-02-06
Register Free Account
American Dad!
The series focuses on an eccentric motley crew that is the Smith family and their three housemates: Father, husband, and breadwinner Stan Smith; his b ...
You May Like Also
The Boondocks
The Boondocks
The Boondocks is an American adult animated sitcom on Cartoon Network's late night programming block, Adult Swim. The series premiered on November 6, 2005 and was created by Aaron McGruder, based upon McGruder's comic strip of the same name. The show begins with an African-American family, the Freemans, having moved from the South Side of Chicago, Illinois to the fictional, peaceful and mostly white suburb of Woodcrest. The perspective offered by this mixture of cultures, lifestyles, socioeconomic classes, stereotypes, and races provides for much of the comedy and conflict in this series. There have been a total of 45 episodes over the course of the shows first three seasons. The two part season two finale "The Hunger Strike" and "The Uncle Ruckus Reality Show" was never aired on American television as Adult Swim feared legal actions against them from BET. Both episodes were aired on Teletoon and were released on DVD in the United States. The season three episodes "Pause" and "The Story of Jimmy Rebel" have been pulled from general episode rotation following the television debuts and no longer appear in reruns. A fourth season containing twenty episodes has been announced to air in January 2014.
Drawn Together
Drawn Together
Drawn Together is an American adult animated sitcom, which ran on Comedy Central from October 27, 2004 to November 14, 2007. The series was created by Dave Jeser and Matt Silverstein, and uses a sitcom format with a TV reality show setting. Like that of MTV's The Challenge and VH1's The Surreal Life, the show's eight characters are a combination of personalities that were recognizable and familiar prior to the series. Differently, however, Drawn Together used caricatures of established cartoon characters and stock characters. In addition, their character traits parody personality types that are typically seen in reality TV shows. Comedy Central advertised it as the first animated reality show, and in some episodes, characters participate in challenges that are similar to reality TV challenges. After only three seasons the show was cancelled but still maintains a strong fan base. Subsequently, The Drawn Together Movie: The Movie! was released on April 20, 2010.
Chuck
Chuck
When Buy More computer geek Chuck Bartowski unwittingly downloads a database of government information and deadly fighting skills into his head, he becomes the CIA's most vital secret. This sets Chuck on a path to become a full-fledged spy.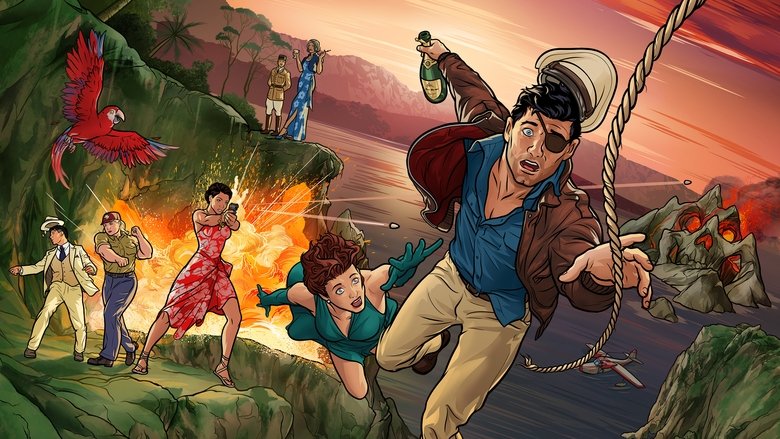 Archer
Archer
Sterling Archer is the world's most daunting spy. He works for ISIS, a spy agency run by his mother. In between dealing with his boss and his co-workers - one of whom is his ex-girlfriend - Archer manages to annoy or seduce everyone that crosses his path. His antics are only excusable because at the end of the day, he still somehow always manages to thwart whatever crises was threatening mankind.
Futurama
Futurama
The adventures of a late-20th-century New York City pizza delivery boy, Philip J. Fry, who, after being unwittingly cryogenically frozen for one thousand years, finds employment at Planet Express, an interplanetary delivery company in the retro-futuristic 31st century.
Robot Chicken
Robot Chicken
Robot Chicken is an American stop-motion claymation comedy television series created and executive produced by Seth Green and Matthew Senreich along with co-head writers Douglas Goldstein and Tom Root. The writers, especially Green, also provide many of the voices. Senreich, Goldstein and Root were formerly writers for the popular action figure hobbyist magazine ToyFare, which has won an Annie Award and three Emmy Awards.
South Park
South Park
Follows the misadventures of four irreverent grade-schoolers in the quiet, dysfunctional town of South Park, Colorado.
King of the Hill
King of the Hill
Set in Texas, this animated series follows the life of propane salesman Hank Hill, who lives with his overly confident substitute Spanish teacher wife Peggy, wannabe comedian son Bobby, and naive niece Luanne. Hank has conservative views about God, family, and country, but his values and ethics are often challenged by the situations he, his family, and his beer-drinking neighbors/buddies find themselves in.